Besides accessing Thunderbird through cPanel, you can also send emails in Thunderbird via the desktop email client.
For One Email Account:
Step 1: Open Mozilla Thunderbird

Step 2: On the left side of the top menu, click on the Write option.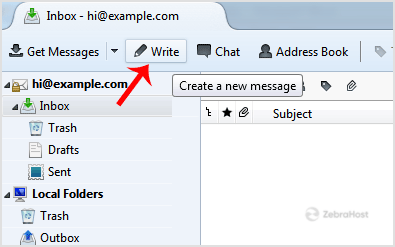 If You Have Multiple Email Accounts:
Step 1: Click on your account and a drop down menu will open.
Step 2: Select the appropriate email and enter the email account of the person you want to send an email to in the "To" field.
Step 3: In the subject field, enter the subject of your email, enter your message in the message box, and then click on Send.